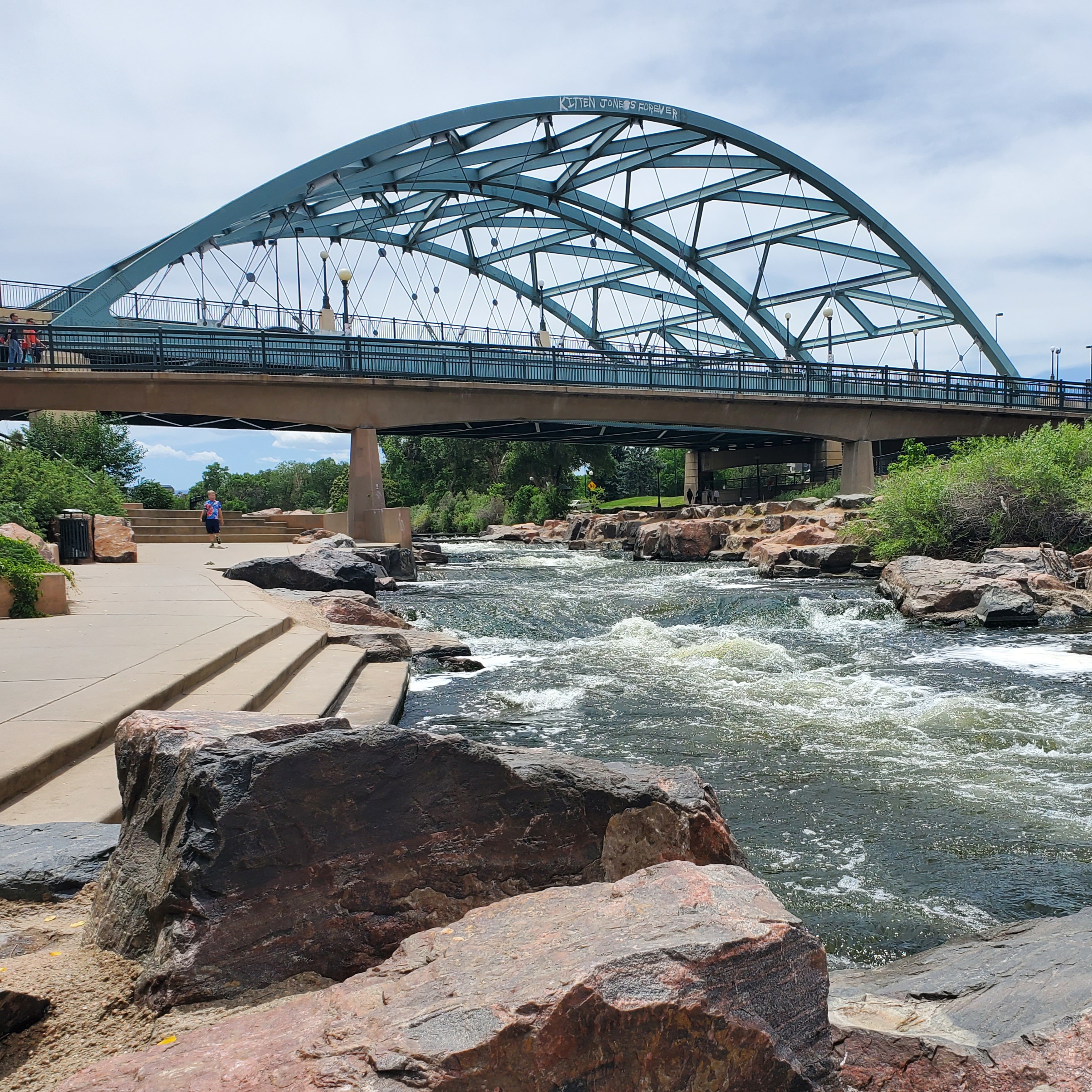 The intense energy of the past few weeks is finally subsiding. The fight for women's reproductive rights is a long game and we can do more than one thing at a time, but we'll need to pause for self-care from time to time.
I will always fight for women's right, but for now I'm lightening up a little for my own self-care.
Being in Nature or Having an Impromptu Dance Party.
Nature can be very healing. For me, it's my go-to calm and restore self-care. Typically, it's in the form of walks in my neighborhood, but sometimes I'm able to go a little further and find some amazing nature in downtown Denver.
One of those places is Confluence Park. It's a lovely city park that sits above the confluence of the South Platte River and the Cherry Creek. It also happens to be in downtown Denver. I can grab a lunch, walk the paths, and sit under a tree to eat. It is great self-care.
Another form of self-care for me is listening to music and singing and dancing around my house. When my vibe is low and I'm looking for an upgrade, I turn on music and sometimes dance and sing. The movement and the music help me transmute the junk energy into better energy.
I'll start with whatever music comes to mind. Sometimes the song comes to me before I realize that I'm in need of some music and movement. Sometimes I start slowly and work my way up to a full-fledged dance party, other times the dance party is in full swing before the music starts. I just go with whatever is available to me in the moment. I don't judge or force the situation. I just let it flow.
Life can be very challenging these days and self-care is what is getting me through. Being in nature or having an impromptu dance party, whatever it takes to shift out of the heavy energies of these days is a necessity to create the balance I need in my life.
Tarot Reading.
Yesterday, Sunday afternoon, I received a professional tarot reading. My favorite neighborhood plant shop, Rosehouse Botanicals, hosts a tarot reader, Matthieu, on Sunday afternoons. The energy felt good from the moment I sat down at the little table surrounded by plants. It was ideal for my Taurus astrological placements.
The reading reflected that good energy in that it resonated so well for me. I walked away thinking 'wow'. A few hours later I was finding clarity and inspiration. There was nothing in the reading that said, 'go do that' but it did confirm some things that were already on my mind. In that, I found clarity and inspiration to help me move forward in my career.
If you have ever been drawn to, or curious about, a tarot reading, I recommend you go for it, especially if you are facing a challenge in your life. If you aren't sure what a tarot reading is like, check out YouTube or other social media. There are good practitioners on those platforms that provide general readings for the collective that are quite helpful.
But if you can, get a professional reading. A personal and professional reading may provide you with a perspective you hadn't thought of yet or confirm what you had been wondering about. Just as it did for me.
The Best Thing I Ever did for Myself.
As I move forward in my spiritual awakening, I'm beginning to receive a consistent message about needing to look back to acknowledge how far I've come. It's not a practice that comes naturally to me. My focus is usually on moving forward. I'm learning though that there is value in looking back only to see how far I've come.
The first thing I thought of when looking back was how different my inner dialogue is now from what it was a few years ago. When I look back, my inner dialogue was trash. I allowed my inner critic to run my life and it kept me small and also miserable.
My inner dialogue sounded like, "You can't do that!". I heard a million reason why I couldn't do the thing. I heard a long stream of limiting beliefs about why my life and career had to be a certain way. The whole situation kept me small and frustrated in my perceived lack of a life that I wanted.
The best thing I ever did for myself was to quiet my inner critic. Once it was quieted, I could add words of encouragement in the form of an inner cheerleader. The inner cheerleader helped me through some challenges. It was empowering to take back control of the thoughts in my head.
And now, most days, my inner dialogue is supportive, helpful, and strong. It is what I need it to be. I'm aware of the impact of my inner dialogue and I can choose the conversation that I need to meet me where I am on any given day. It truly is the best thing I ever did for myself.
The picture used today was taken by me in June. In the background is the Speer Avenue bridge over the South Platte River as seen from Confluence Park. It's not uncommon to see kayakers or tubers enjoying themselves. About 25 yards downstream, the water smooths out and there are a couple of small sandy beach areas for people to enjoy. Confluence Park is above and has views overlooking it all. And all of it is in downtown Denver. It is heaven on earth and is great self-care when I need a dose of nature.
If there is a form of self-care that you're drawn to or thinking about, don't hesitate. You are worth every moment of self-care that you can create. What's your favorite self-care activity and how soon can you do some of that?
Be well,
Nikki