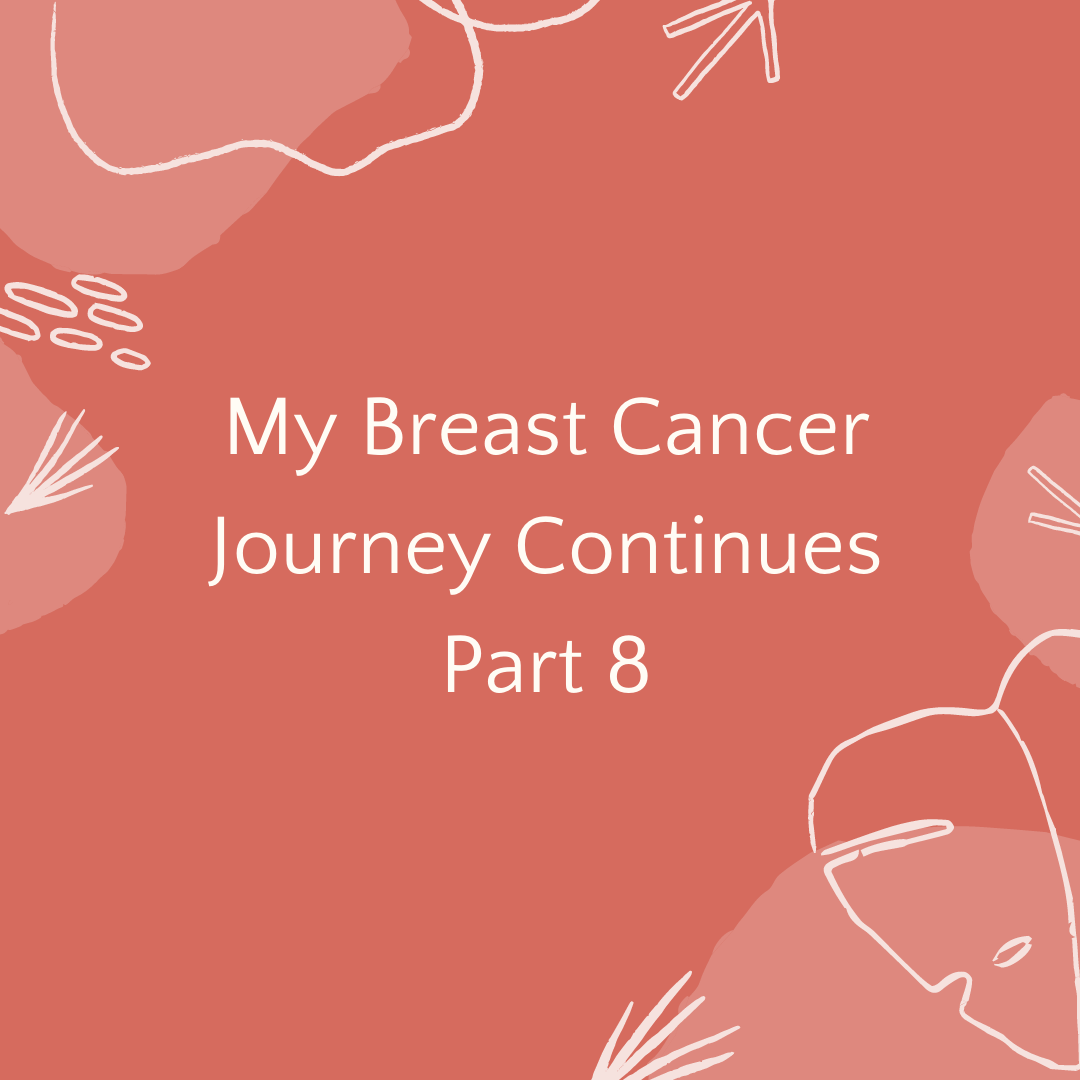 Still Healing and Improving My Range of Motion.
Saturday, May 8th, was one-month since my surgery. My wounds are healing. The swelling is continuing to diminish. And my range of motion is improving. Now that my physical condition is improving, I'm beginning to think about the future. More on that later.
Physical therapy started last Tuesday. I was nervous that I'd be stretched and pulled until the point of tears, but it wasn't that bad. I was measured to see where I was post-surgery. That was compared to my pre-op measurements. Again, I'm doing well. Then, I was gently stretched and not pulled. 
My physical therapy homework is to gently pull my shoulder blades together. It has helped ease the tension in my chest muscles. It's like yoga in that the smallest movements can have great effect.
Last week I also had my first consult for radiology. It will be a few weeks before I can begin radiation treatments. My arms need to go over my head and they aren't there yet. I will keep doing my physical therapy homework and inch my way towards radiation therapy. One day at a time. One step at a time.
Wounds and Wiggles.
I don't think I've described my surgical wounds. It took me a while to look and even longer to figure them out. On my right side, the cancer side, the incision runs diagonally across my chest and deep into my under arm. This allowed for eight lymph nodes to be removed and tested for cancer (negative woot woot!). My left incision was also diagonal, but it stops short of my under arm and allows a better range of motion.
Prior to my mastectomy I've had two surgeries on the right side of my chest, a lumpectomy and a thoracotomy. The multiple surgeries, scarring, and nerve damage resulted in more swelling and has slowed my healing. My right side will take more time to heal.
My left side had only one prior surgery, a lumpectomy, no lymph nodes removed during the mastectomy, and a smaller incision so it is healing more quickly. That said, I've used it more and pulled the muscle a little. It's healing well.
My limited range of motion means that when I change my clothes, I look like a snake that is either trying to shed their skin or trying to get back into a skin they've already shed. I laugh at myself as I wiggle in and out of clothes. So far, I haven't gotten stuck in any of my clothing changes, but I may have just jinxed myself.
This whole process is a little easier when I can laugh at myself. Like how when something falls on the floor, I have to giraffe it a little with my legs spread wide and a big slow stretch downward. Sometimes, I just leave things where they fall and let my husband pick them up. It's not always worth the stretch. Often times I use my kitchen tongs to help me reach things on a higher shelf or on the floor. Those tongs have always been my favorite kitchen tool.  
Saturday Errands Feel so Good.
Saturday morning, my husband and I did errands in the neighborhood. We walked a few blocks to the post office, another few blocks to the natural grocers, across the street to the grocery store and then a couple of blocks to home. We walked slowly and steadily allowing people to pass us by.
The slow pace allowed me to enjoy it all the more. It was a beautiful, cool, spring morning. My favorite flowers are tulips and I got lucky to get out before they were all gone. I also saw some daffodils and hyacinth. Recent rain has made the grass that beautiful shade of spring green. There are pink trees, white trees, green trees, and still-bare trees.
That walk gave me life. I soaked in the spring flowers, blooming trees, and sunshine. It fed my soul. Getting out for a long walk also helped stir my stagnant energy and push out more of the fluid built up in my body.
When I got home, I cried and released all of the unhelpful energy that was ready to move out. And then, in class later that day, I feel asleep during meditation. Not just once, but three times. I was tired and relaxed.  
Meditation Teacher Training.
I haven't written about it much, but since January I have been in meditation teacher training. I'm hoping to become a certified meditation teacher by the end of the year. I'm learning a style of meditation called "instinctive mediation". It's such free and easy way to meditate. I look forward to teaching others this simple and beautiful way of meditating.
So far, I've been able to keep up with my teacher training, well mostly. I'm a little behind on my homework for last week. I'm also behind on my practice sessions. Each week we receive a new meditation script that we are supposed to be guiding people through, but I haven't been. I've been in hermit mode for since before my surgery. Now, it's time for me to break out of my hermit mode.
I'm looking for one meditation practice client. If you, dear reader, would like to learn about instinctive meditation and get free meditation guidance from me, message me on my social media this week. It just may be of benefit to both of us.
Going Forward.
For the next couple of weeks, I will continue to heal and get stretched and pulled physical therapy. When I'm able to get into the position needed for radiation treatments, they will begin too. My mediation teacher training classes continue, and I look forward to finding a meditation practice client. Maybe that will be you.
Lessons for This Week.
Healing takes as long as it takes. I can't rush it and I don't want to push it. I just have to allow it. This isn't a new lesson, but a reminder for me to be patient.  
When we are called to go inward, we should go. Whether it's for emotional or physical reasons, sometimes we need to rest and take time to go inward. It's important that we honor our needs. Hermit mode is a natural instinct and I've needed it. I hope that you honor that need for yourself when it arises.
Being brave and having no more fucks to give feels like freedom. When we no longer care about what people think of us, we are free to be who we are supposed to be. This is how I feel when I go out to appointments and errands without giving a single fuck what people think when they see me. I feel brave when I go out how I am, without breasts and without prosthetics.
I do have a new bra and breast forms, but I'm not healed enough yet to wear them. That's okay, I'm enjoying having no more fucks to give about what people think of how I look. I'm still me and I love this version of me.
I'm grateful you're here.
Be well,
Nikki